March 28, 2010
---
Last year I was thinking that it had been a while since I last saw the divine comedy live. I popped on
their website
to see where they were playing next and noticed the next gig was scheduled for a festival in Barcelona and ended up going along. The
Faraday Festival
is set in a small seaside town,
Villanova il a Geltru
, about 50 mins by
train
from Barcelona.
The festival has a capacity of about 1000 and is set in a couple of back gardens to what
may be a college
, I'm not sure. The gardens are up on a cliff and look down onto a beach with a lighthouse nearby. There were two stages and only one act played at a time. There was beer on sale and a choice of either falafel in a pita or pancakes to eat. In between, and during some there's room to have a nice sit down and look at the sea. It was a really warm atmosphere, and also really warm going to a festival without a coat with you was brilliant. Also amazing were the toilets which were permanent ones, the ladies had mirrors and flushed all weekend!!
We stayed nearby at a
hotel
a few minutes from the site. There were also
camping sites
, but these were a bit of a distance from the beach and the buses didn't start running to go back there till 4 or 5am. The bands came on about 7-8pm, with the headliner starting at about 11pm, music went on till about 6am, but I don't think we made it much past 3am on either of the two nights. On the last night they put on a free gig to say thank you to the town, down on the beach which was lovely.
We spent the days doing little bits of sightseeing in the small town, walking around looking at shops and churches and an afternoon on the beach. We also got into the siestas which seemed like our only hope of staying up late enough to enjoy the festival. We also went on a little train tour, and got an unexpected EXTREME experience when the driver took us round and round a little roundabout.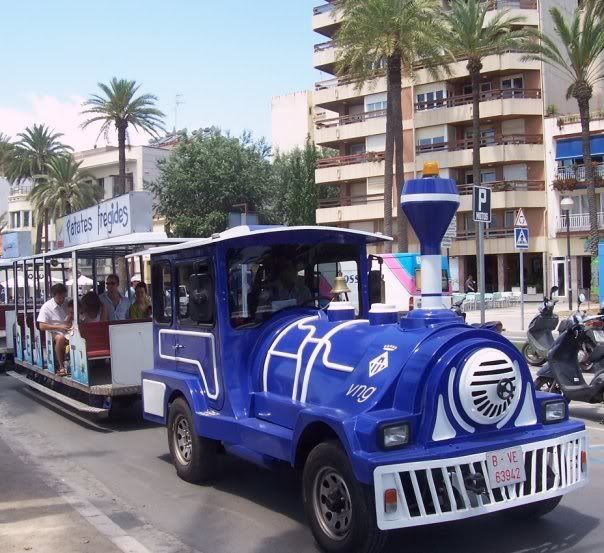 Another highlight was the
train museum
with lots of info on train history.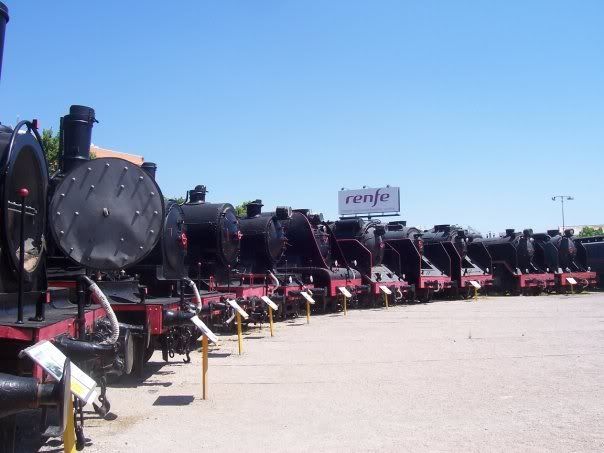 Also included in the museum was one of the best ever stick your head through the cut out set ups ever.
Luke seemed to take to it especially well.
Also to be recommended is vegetarian friendly restaurant
L'Oganqüit
. We went there a couple of times and they were very helpful and recommended some lovely food.
On the first night
Le Pianc
kicked off the festival on the main stage.
We then walked over to the other stage to see
Epaldamaceta
play some very earnest tunes in the Spanish.
Bestia Ferida
were quite memorable with their free-form jazz sound, which provided a good chance to nip round the corner to buy falafel.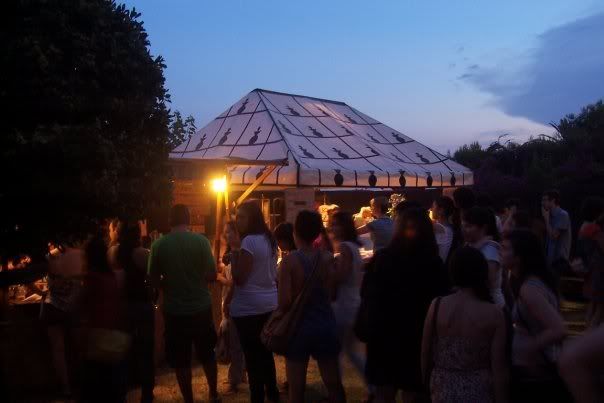 The Leisure Society
were good with some
fun, catchy sounds
. The
crowd went wild
for Spanish band
The New Raemon
, who I liked more than Luke.
The Lucksmiths
were OK too.
The second day had some great stuff,
Bruna
seemed like a very nice young man who played lots of samples from his laptop which built into some choones.
Shugo Tokumaru
from Japan had some very pretty sounds with melodicas and xylophones mixed in.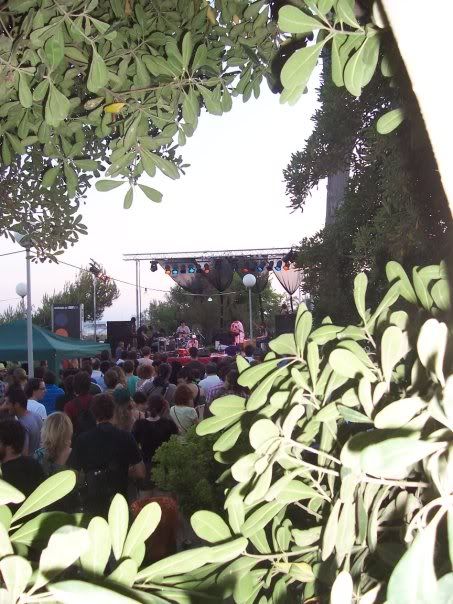 The best was lovely Neil Hannon, on his own
playing piano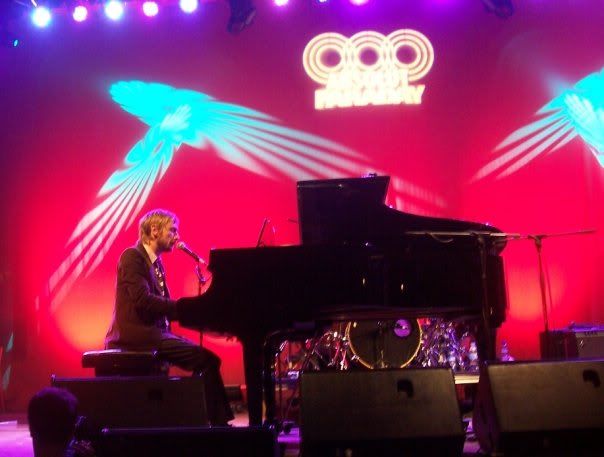 and then guitar
,
reading out small bits of Spanish and being fantastic.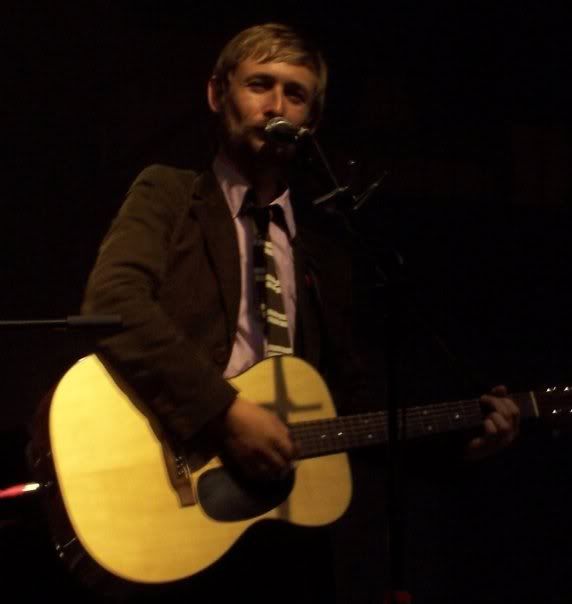 The last day on the beach was a great wind down

with boat beam playing some gorgeous songs with lots of strings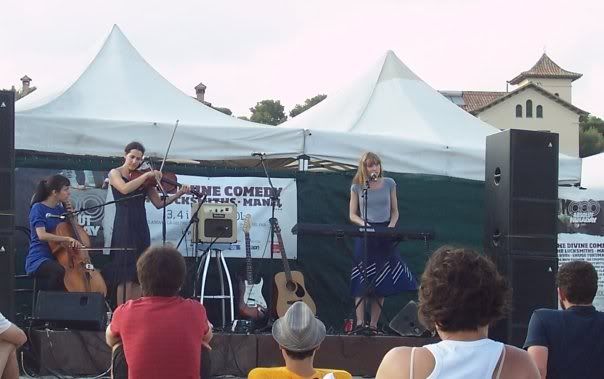 and Gary Olson out of Ladybug Transistor on trumpet and singing with a couple of friends.
He was great, even with sand in his mouthpiece.
He'd been popping up throughout the festival as most of the bands at some point would wheel him out to do a guest spot, but it was good to hear his own stuff. We got to chat with him afterwards and he was a very charming gentleman, very enthusiastic about the festival and friendly. We even got our festival CD signed as a super souvenir.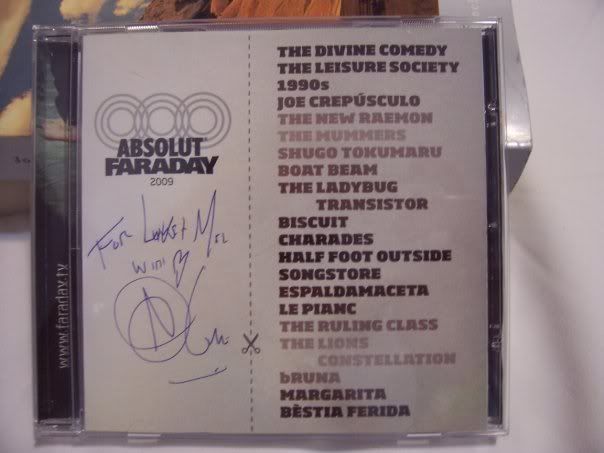 We can be spotted in some of the
official photos
if you
look carefully
, we might also be spotable down the front for the Divine Comedy on some of
their videos
.
We finished up the trip with a night in Barcelona, we stayed at the
Hostal Gat Raval
, which was mainly chosen as its close to the
Manchester Bar
where we had a great night on Luke's 30th. It turned out to be a pretty good option, clean and not too noisy and the Manchester Bar was still pretty cool. We tried to go back to
Mama cafe
, but it had decided to choose that day to be closed. We ended up in a great place in the end though, although I can't remember what it was called.
March 21, 2010
---
Last summer I had another adventure when I went to the chatchily named
9th International Conference on Mercury as a Global Pollution
, which was in
Guizhou, China
. To get over the jetlag before talking mercury and to make the most of my ticket, I went out a few days early to stay with Sara's lovely friend Nicola in Shanghai. Despite promises by virgin media, I couldn't use their phone out there so was a bit worried about how to find her when I arrived in Shanghai. I spoke to a nice man at the tube station who let me borrow his phone and managed to get in touch with her and met her at the tube station and popped to her flat.
Shanghai was great, lots going on and building work everywhere. Apparently lots of this is for the
2010 expo
, to get everyone excited there are lots of statues of the mascot all over the place.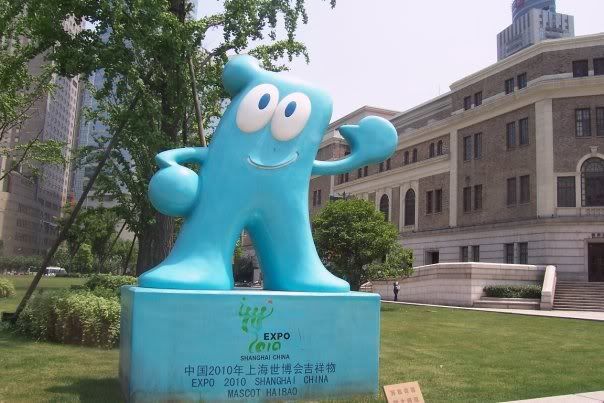 Shanghai was lots of fun, Nicola took me out for some great meals, I think my favourite was the Harbin style place which had lots of great vegetarian food. She also took me to a great prom night themed disco, in preparation she took me to the world of crap where I found some great temporary tattoos which turned out to be a little less temporary than I'd hoped which was a little bit of a worry when the conference started.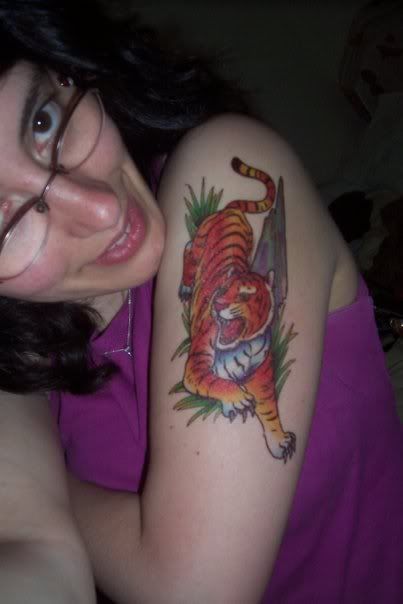 I had lots of fun wandering round Shanghai sightseeing in the days. I met a nice lady in people's square who asked me to take her picture, then took mine.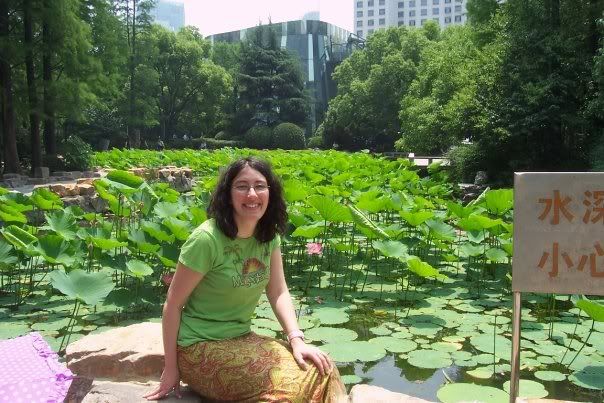 She then offered to take me to
a tea ceremony
, although it was the "only day I could ever see this" I turned down her
kind offer to be my guide
and went on with my sightseeing.
The
urban planning centre
was great, its full of scale models of how shanghai is meant to look when its "done" and there's a cool 360 degree screen where you fly around over a computer generated animation of the finished city.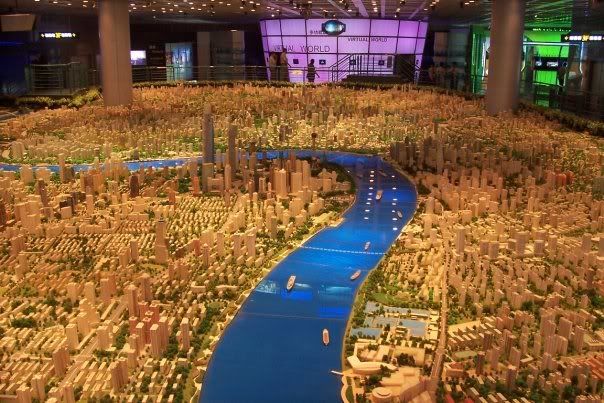 Finding the
cold stone creamery
in
Xintiandi
was a nice little reminder of days when we used to go to the one in Wilmington for an afternoon ice-cream. The
barbie shop/museum
was fantastic, if expensive.
I did splash out on a Barbie passport which I should try to use when travelling, even if it is really just a fancy store card.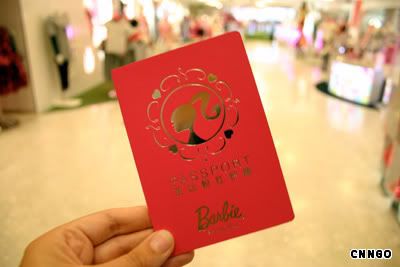 I also stopped for a nice cup of coffee and got to watch a
fashion show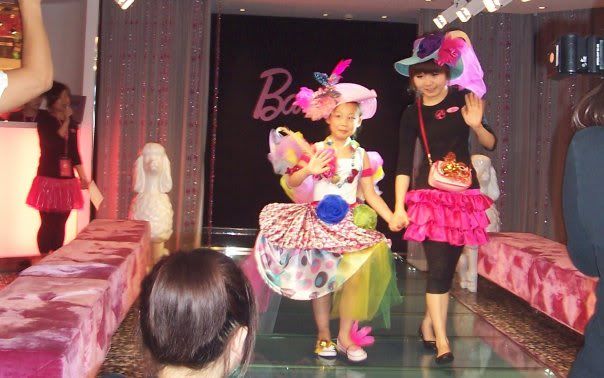 I took myself off to
Yuyuan gardens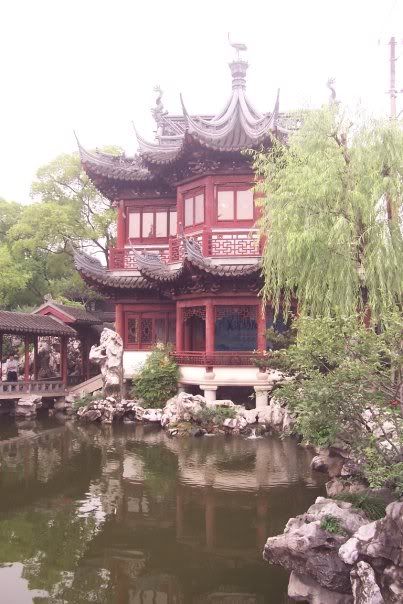 for a look at a bit of ye olde China style.It started tipping it down while I was in there, but I had quite a nice time sitting under cover listening to the rain and reading some Jilly Cooper. I had a wander round the "old city" surrounding the gardens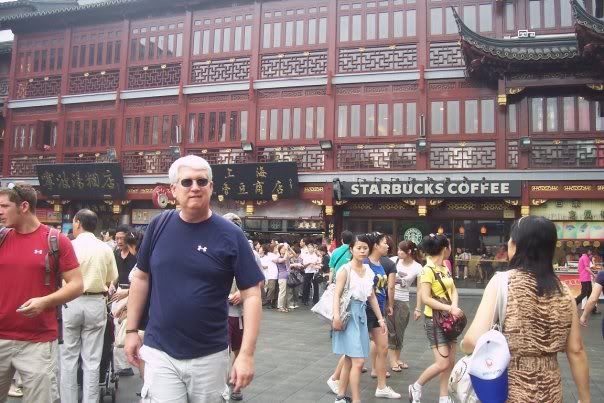 I wandered down to
The Bund
where there was ALOT of building work going on, I got the best view on the ferry over the river to Pudong thanks to Nicola's tip to avoid the sightseeing tours and just pop over the river

I managed to get off the ferry just as a massive storm was about to start. I strode off confidently to the tube station in completely the wrong direction and had a fun hour covering under a brolly trying to read my map, very glad that the tall buildings everywhere where more likely to get hit by the overhead lightning than me, but I did eventually manage to find a tube station.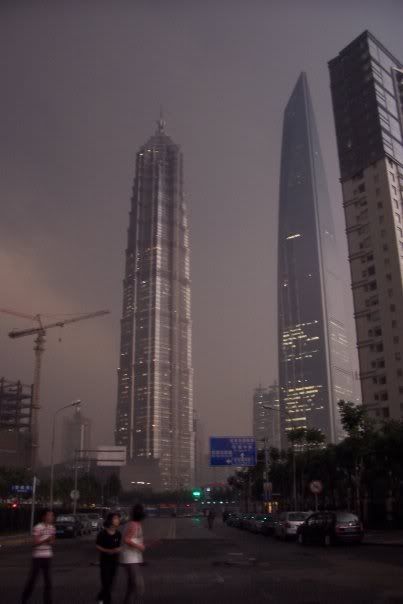 On my last day Nicola took me to the top of the
Marriott hotel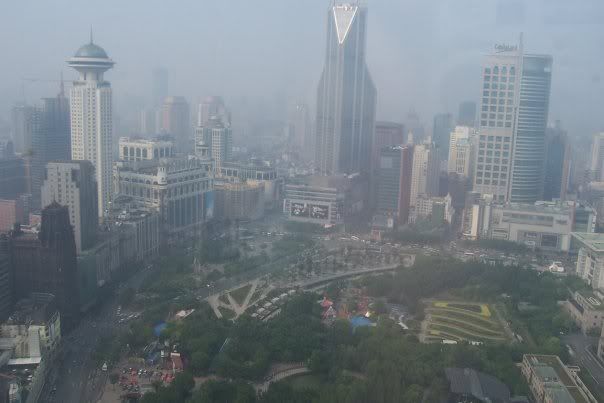 for a posh cuppa overlooking the city before we headed off to Nanjing Rd then I was off to Guiyang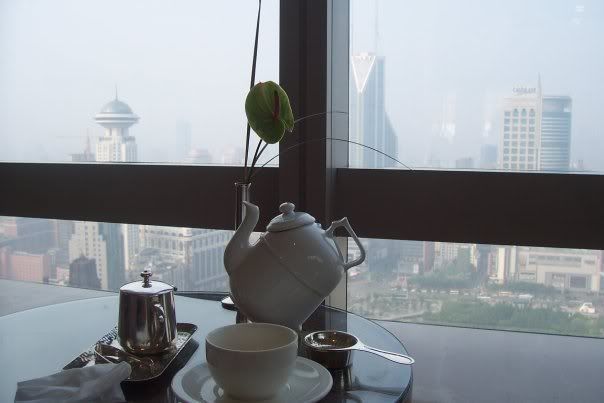 Having been used to ignoring people in Shanghai and assuming everyone was trying to scam me, I almost walked past the people there to pick us up at the airport in Guiyang and take us to the conference. The conference was pretty cool, strange to see so many talks I wanted to see, but great to meet lots of new mercury people.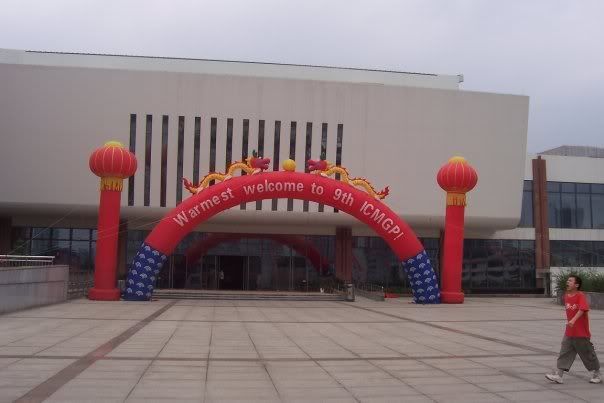 The last night of the conference we had a great conference dinner and mini-festival afterwards with some traditional stuff and a great local hip-hop band. Less great was the conference group thrown together from the scientists who could play/sing. A terrible jam of traditional Brazilian/hard rock/easy listening.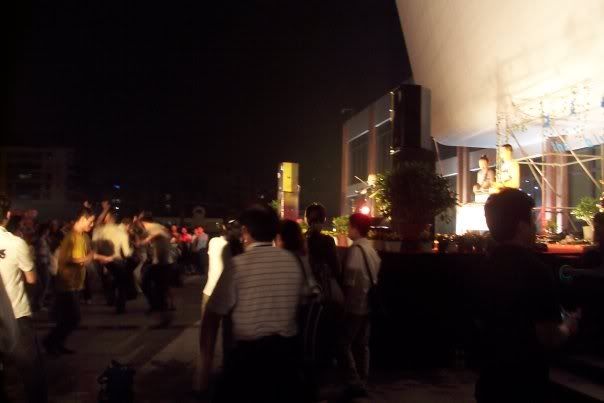 They put on some trips for us and I went off to
Quigyan
. It was mainly a shopping centre, but it was set in an ancient town.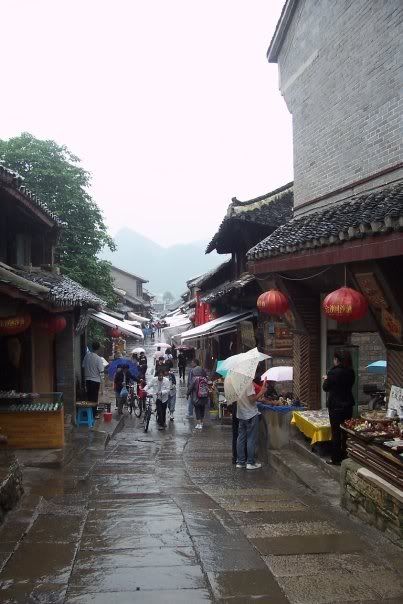 I did a bit of shopping with my amazing haggling/Chinese skills. Wandering round I did manage to find some of the temples and see some sights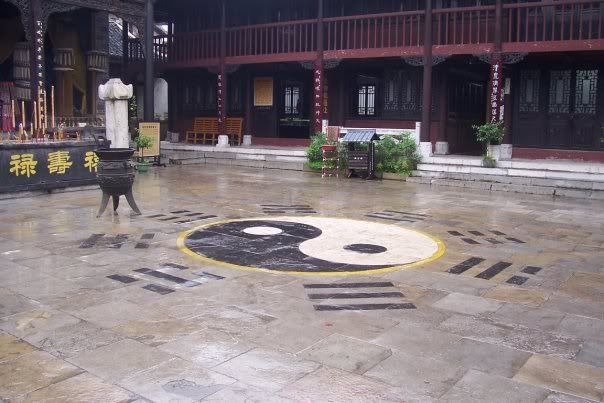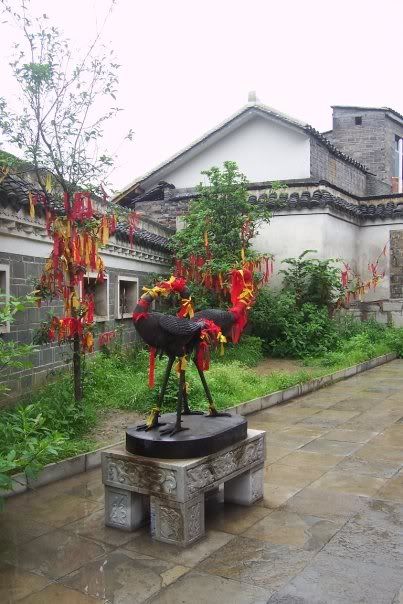 .
There was also loads of places where you could pick up a gun/bow and arrow and practice your shooting
I also took my self to Qianling Park on my last day. It was a nice break from the fairly grey city, also full of construction work.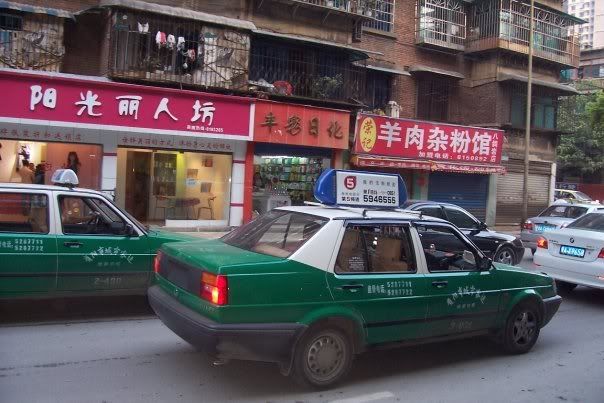 I decided against going on the funfair rides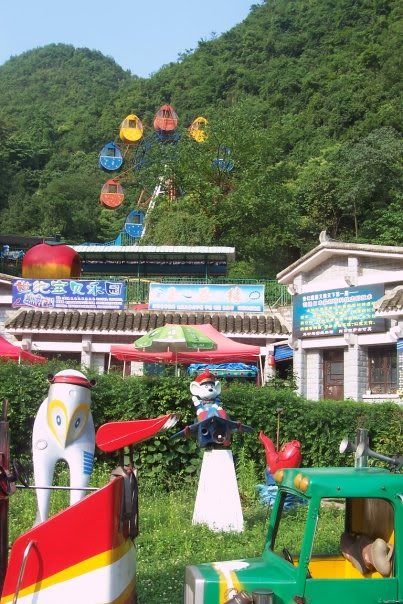 and managed to resist buying more stuff
I was also disturbed to see this sign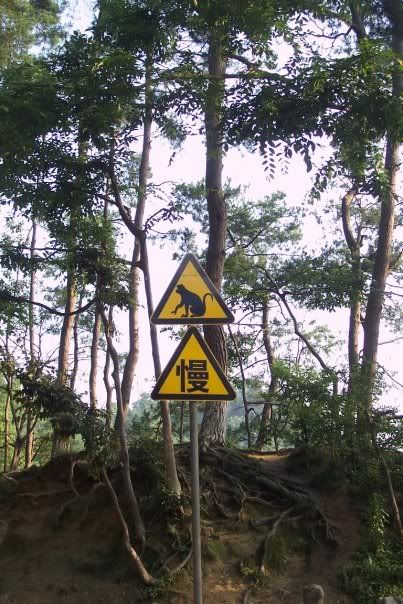 There were alot more little monkeys than I was expecting and they came alot closer to you than I liked. I may have screamed like a girl when one of them came to tap my leg as I reached for batteries in my bag. I gave up on that idea when I realised they thought I was going for food.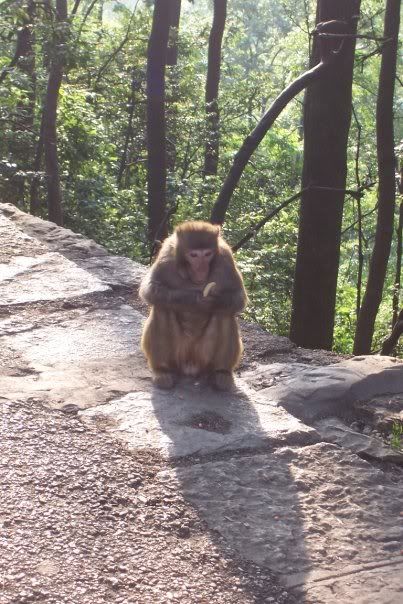 After getting through the monkey path bit of the park I found some ladies learning some marshal arts and then on the way out some more ladies doing a bit of aerobics.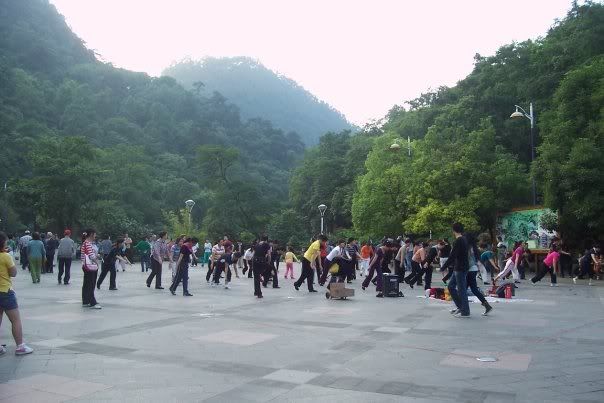 I wandered back to
my hotel
via the market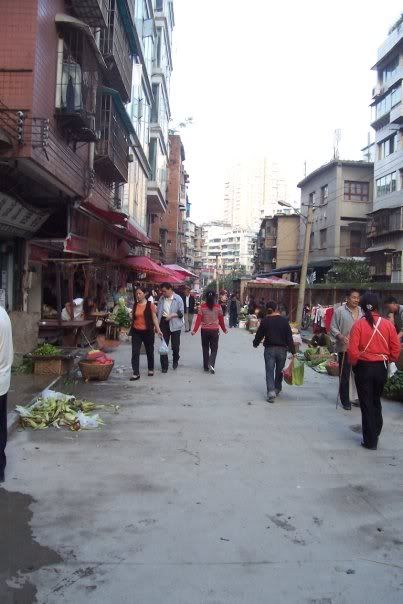 I also managed to pop into a local opticians and with some sign language and writing/drawing get myself a new pair of frames for about £20 which if I ever get round to getting lenses will made a great China souvenir.