October 31, 2005
---
Look its a
Dolly Parton interview
A whole 13 and 2/3rd minutes of the lovely Dolly telling us about her new album and you can hear a few songs too! It gets a bit political and evrything.
There's an Andrew Bird interview too.
October 24, 2005
---
I'll try again...
Had a very nice time on our little road trip, my pics still not online but you can see
Beth's
and
Kate's
thanks to t'internet. Beth and Kate flew to Wilmington then we set off to drive 2 hours to Raleigh in my car to get a plane to Memphis to meet Toby. Sadly my car conked out along the way and about half an hour in we pulled off I40 and waited for a tow truck back to Wilmington.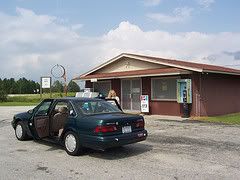 .
We made it back thanks to a nice man who let all 4 of us join him in the 3 seats of the cab of his truck. Mike then came to get us and we headed for Raliegh again before realising we'd never make the flight. It was stupid money to get new flights so we hired a mini-van(A.K.A. the beast) and drove to Memphis (~850 miles). I did about 80 miles then that was me done.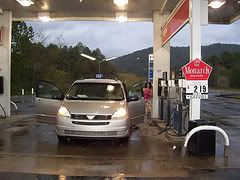 We made it to Toby in Memphis the next day in time for a trip to
Sun Studios
, "Birthplace of Rock n Roll"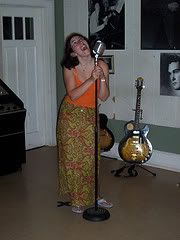 Next day was Graceland early which was all very exciting. I liked the millions of gold discs and the TV room and the Pool room and the stairway of mirrors. I'm sure the closed off bit upstairs is just plain and tasteful.

After that drove a few hundred miles to Nashville to see a
country music Katrina benefit
at the Grand Ole Opry. It was a pretty impressive line-up with Alan Jackson (he likes a bit of chicken), LeAnn Rimes, Keith Urban(phoar, but not really when you look), Alison Krauss and others mixed with longtime Opry stars such as Porter Wagoner and Beth's new husband
Little Jimmy Dickens
(He's not well). We were lucky to get tickets, it sold out in 4 days.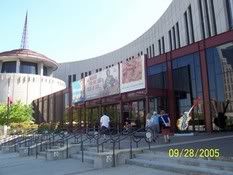 Next day the country music extravanagza fiesta continued with a few happy hours in the Country Music Hall of Fame/Museum followed by a great night out in a litle Nashville Honky Tonk.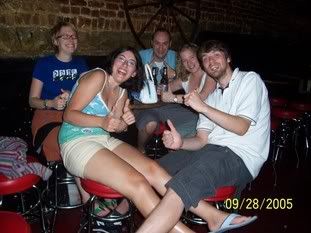 We left Nashville, but not before visiting a very dodgy wax work museum full of country music super stars,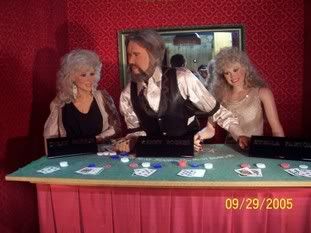 drove a few more hundred miles to Gatlinburg in the Appalacians to our fantastic
cabin in the mountains
with our very own hot tub out on the deck also with mountain view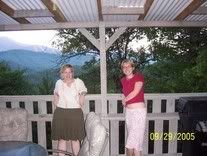 .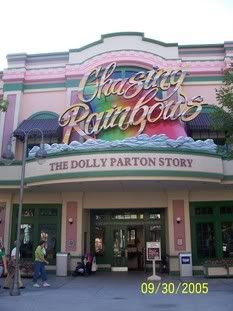 As if that wasn't enough next day was a double fixture. Starting with the amazing
Dollywood
Dolly Parton's very own theme park. I managed to go on one kiddie ride but that was enough for me, didn't even do the virtual moving seat one. I did get to see the eagles and enjoy music from Dolly's Kinfolk and Kates husband, as well see and meet the fantastic Riders in the sky (who we also saw in Nashville and seen autographing a cd for Luke in last post)! Then it was off for a feast at Dolly's Dixie Stampede where you're served a whole chicken (or sticks of raw veg for vegetarians) in an auditorium while sitting on North or South side. You cheer on your side while the civil war is re-fought by horse races and stunts, ostrich racing and small children chasing chicken (this was the point Luke shouted "You Suck!" at a four year old). WE (the North) did manage to win, but at the end a big screen came down and Dolly told us there was no North and no South, only America and everyone cheered lots for a song about how great America is while Men in suits with lights on danced on horses before releaseing some symbolic doves.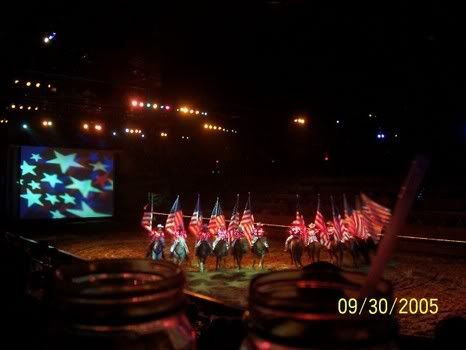 Next day a quick walk in the hills of the amazing smokies and a quiet night of Indiana Jones mini-golf (which me and Luke won) and some dinner in Gatlingburg. Then it was back to Wilmington via the really lovely Ashville and South of the Border (you never sausage a place)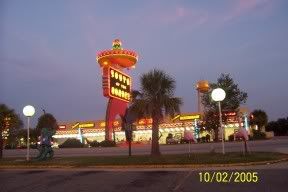 . We made it back and returned the beast.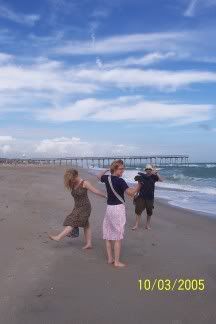 Luckily my car was fixed so we had some fun at the beach and downtown, sadly no Rum Runners but Front street came through with some good cheap beer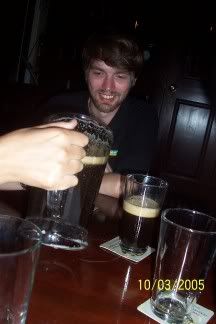 .
October 19, 2005
---