June 15, 2005
---
Heat advisory for Wilmington
"The National Weather Service in Wilmington has issued a heat
advisory... Which is in effect from 11 am this morning to 6 PM EDT
this evening.
Temperatures will rise to the middle to upper 90s this afternoon.
Combining the hot temperatures with the moist air in place across
the area... heat index values will range from 105 to 110 degrees
this afternoon."
Hmm, as Catherine might say, bit warm.
June 06, 2005
---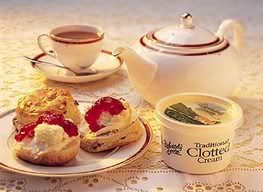 While tidying up this weekend I found a postcard from Devon with the secret of clotted cream....
"Clotted or "scald" cream has been made in Devon for generations. Legend states that Devonshire people were taught the are of cream making by the pixies. Make the cream the day before and serve with scones or Devonshire/Cornish style, where the jam is under the cream is followed."
Here's how fact fans...
"To make the cream mix 275 ml double cream with 1.5 litres of milk and pour in a wide shallow pan. Cover and leave to stand in a cool place (NOT a fridge) for a few hours until the cream has risen to the surface. Transfer the pan very gently to the stove so that the layer of cream is not broken up. Keep on the lowest possible heat for about an hour, until the surface becomes encrusted with a rich, golden top. Carefully remove from the heat. Cover and leave to stand overnight in a cool place to set. Using a slotted spoon, skim off into a dish. The remaining milk can be used for cooking.
June 02, 2005
---
Dancing with the Stars
started n telly last night. Brilliant! Alot of the time its tricky to figure out who the celeb is but I did find out there was a new kid on the block AND a guy off seinfeld. It was marvelous, pretty similar to the one episode I saw on the beeb with a few of those crazy yanks thrown in. A few of them kept going on about their injuries and trying to go for the sympathy vote.
Hell's Kitchen
also look quite entertaining. Nice to see someone getting called a plank and being confused.