May 24, 2006
---
All of the
Eurovision Song Contest videos
can still be seen on this radio 2 website. I liked the Latvian one best I think, probably for the nice puppet thing and the boy's heart flying out of his jacket. Very clever. I think France would probably have been quite a pretty song too without the lady's bad singing. I did enjoy Finland though and their day of rockoning. My mate in Sweden tells me their commentators were very upset their fundamentalist Christian Carola didn't win but did offer some grudging support for their neighbours (In unrelated news he also said he went to a wedding and hung out with Joe Mangle off Neighbours!!!!!!!!!!!!!, !!!!!!!!!!!) Luke's full Eurovision review is on the way...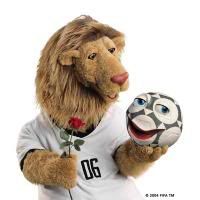 I also found
the world cup website has a Predictor Game
, a handy spreadsheet that lets you fill in all the scores and the route to the final, if you like that kind of thing. There was also this picture of GOLEO VI, the mascot, which scares me a little bit.
May 19, 2006
---
May 18, 2006
---
May 16, 2006
---
May 15, 2006
---
May 12, 2006
---
May 04, 2006
---
May 03, 2006
---
May 02, 2006
---