December 21, 2005
---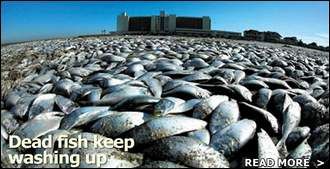 Thousands of dead fish found at Wrightsville Beach
This is a sad story, lovely wrightsville beach (my old beach in Wilmington, although officially not in Wilmington but very close) is covered in dead fishies.
(More about it here)
December 07, 2005
---
Good old the internet, its not just there for the nasty things in life. I found the video for
Tim McGraw's fantastic "live like you were dying"
its also got Drugs or Jesus which is quite special too.
Then, I found
Blake Shelton's site
If you skip through the now playing bit at the bottom you can get to Austin, then make sure you listen to the lyrics, its a very moving tale. I might look for that one by the lady we saw at the Opry next who didn't have time not to fall in love. I better go I'm welling up.
December 01, 2005
---
Test your language skills
. I took a French test and am intermediate level ii, which is better than I expected, German, Spanish and Itailan here too!