December 14, 2004
---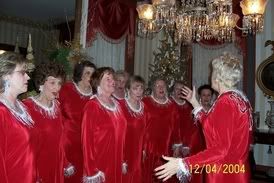 Hoooray!!! More photos for you. How good am I? These are some snaps of my
Wilmington Christmas
. These include some of the Candlelight Tour of Ye Olde Wilmington, its not quite got the Norwich Ye Oldeness going on but its still got some very nice bits. The tour was good as we went into Latimer House after the scary lady gave us very strict instructions about what way we were to walk round these lovely ladies in red starting singing "Have yourself a Merry Little Christmas" I believe from Meet me in St Louis. Anyway it was lovely.
Last night was Tika's Girls Christmas Party which kicked off with a treasure hunt round campus where I got to go on the baseball field and in the dug outs. Cool. It was like being in that film. What's it called, not field of dreams, a league of their own maybe. Anyway it was all very exciting. Then it was back to Tika's for food and games and some eggnog (half a glass very nice, more than that, vile, but add a bit of rum and believe it or not its a whole different story).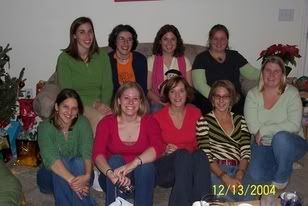 Anyway my team didn't win the treasure hunt, we was robbed, but we did win pictionary. Hoorah! There was also a very tense game of cranium which all came down to a sudden death round. We did pretty good. But not quite good enough.
Well here we are anyway all fed nicely and squished on the sofa. Ooh and you can check out my new haircut!