November 30, 2004
---
November 24, 2004
---
November 19, 2004
---
My Gene bit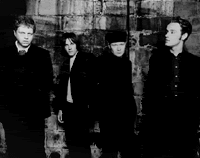 Boo,
Gene
are splitting up.How rude. They're playing their last gig, in London the day before I fly back for Chrimbo. Inspired by
Luke's list of his top 10 gene numbers
here my faves.

London can you wait
(Snippet)
Ah all those not always so happy times listening to this in my room singing my heart out. Kate was so lucky to have the room next door. Very good for revising to. (revising!!! people have to do that for me now.)

Car that sped

Still can't find the phone.


Sleep well tonight
(for the line "we'll leave this lay-by, this excuse for a town"- top!)

Olympian
(snippet)
I heard Olypian in Sister Ray on Berwick Street while trying to decide what to spend my first set of tip money on from waitressing and thought Olympian might be good. I was very right.
(Handy hint - to avoid singing Noo-oo at the wrong moment, listen for the bit where he say says I'm taking your life for you and then you know no more Noo's. The handyness of this blog never ends)

Truth rest your head
(snippet)

I can't help myself
(snippet, although I like the other version better)

For the dead
(snippet)
I got this on a single and EVERYTHING.

Save

me I'm yours

Speak to me someone
(snippet )
the words I'm Homer McGann as heard here or something like that is etched into the vinyl version of some record of their's I've got that isn't Drawn to the Deep end, full of fascinating facts this blog!

Long sleeves for the summer


Stop
(Snippet)

Walking in the shallows


You
(Snippet)
I know this isn't the list of a proper fan cause its mostly off Olympian and there's no obscure Bsides that were only released in Japan but that's tough.
Gene are good.
November 17, 2004
---
November 15, 2004
---
November 11, 2004
---
November 04, 2004
---
November 02, 2004
---
November 01, 2004
---